06 Set
TIME TO BE ICONIC!
PINALLI PRESENTA LA QUINTA VIP SELECTION BOX IN LIMITED EDITION
CON PROTAGONISTA KIEHL'S
La Vip Selection Box by Kiehl's è in vendita in tutti i Beauty Store Pinalli e su pinalli.it solo per il mese di settembre e fino a esaurimento scorte.
Anche a settembre arriva la nuova Vip Selection Box in limited edition proposta da Pinalli. Dopo il successo delle prime quattro, arriva ora il quinto cofanetto con protagonista Kiehl's: la nuova box conterrà tutti i suoi bestseller più performanti, ma anche più versatili su ogni tipologia di pelle.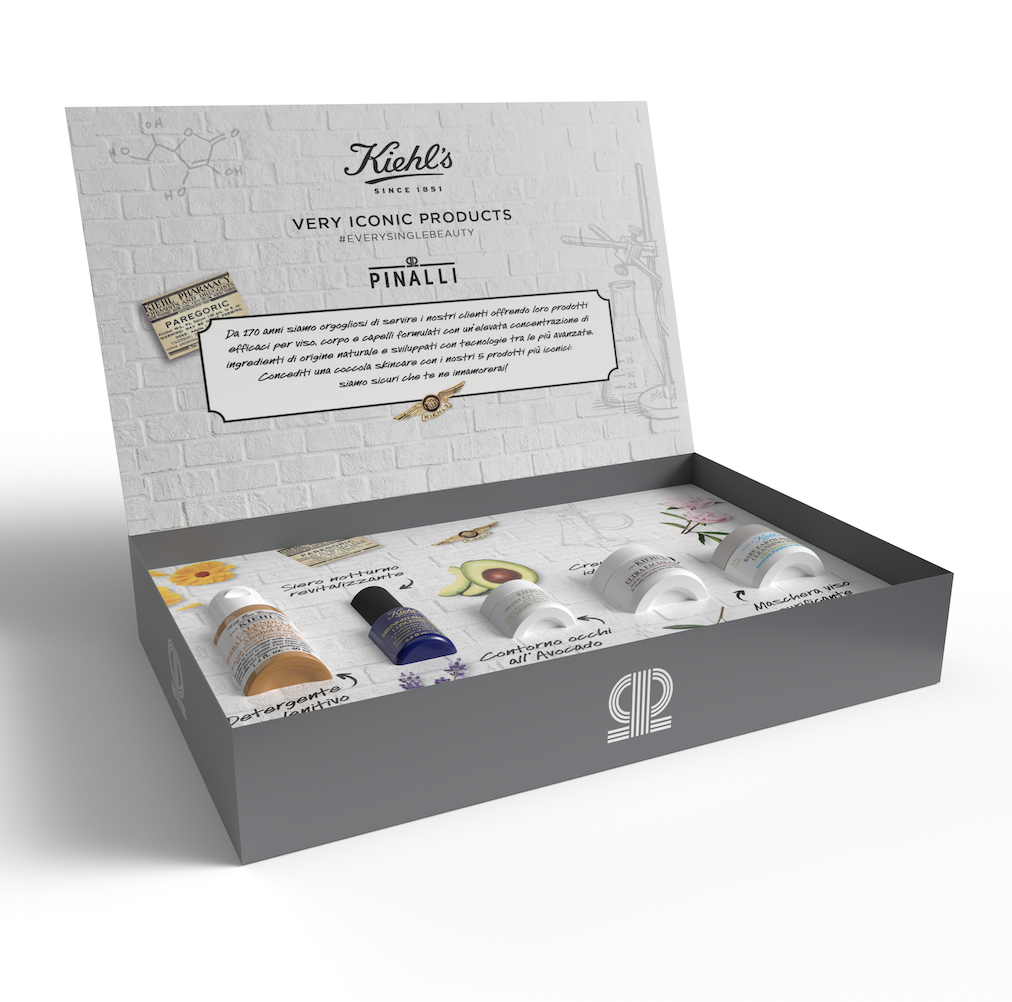 Pinalli questo settembre ha deciso di collaborare con un partner esperto, che da 170 anni si occupa di dermocosmesi: la nuova Vip Selection Box sarà infatti realizzata con Kiehl's e racchiuderà al suo interno una selezione dei suoi prodotti più performanti per il viso, per una skincare ruotine completa. In un'unica confezione, tutti i più strategici prodotti Kiehl's in grado di soddisfare i bisogni di qualsiasi tipologia di pelle dal primo momento della giornata fino all'ultimo step della sera. Ma non solo: un'opportunità unica offerta da Pinalli per provare le eccellenze del brand a condizioni introvabili!
Le VIP Selection Box, da collezionare durante tutto il 2021, sono disponibili ognuna solo per un mese e fino a esaurimento scorte. Acquistabili in tutti i Beauty Store Pinalli e su pinalli.it, celano al loro interno i migliori prodotti di skincare, make-up, haircare e fragranze: un'occasione da non perdere per conquistare i migliori must have beauty a condizioni introvabili! Averle tutte sarà una irresistibile tentazione: ogni cofanetto conterrà, infatti, i bestesellers del brand del mese, ma anche un cartoncino con un segreto di bellezza della moderna Regina Maria Antonietta ed una immagine finale da comporre mese dopo mese.
La nuova Vip Box sarà disponibile dal 6 settembre 2021 e si avrà l'opportunità di acquistarla (fino ad esaurimento scorte) a € 89,00 grazie alla partnership in esclusiva con Pinalli.
La Vip Selection Box by Kiehl's comprende all'interno:
DETERGENTE LENITIVO: Calendula Deep Cleansing Foaming Face Wash
SIERO NOTTE REVITALIZZANTE: Midnight Recovery Concentrate
CONTORNO OCCHI ALL'AVOCADO: Creamy Eye Treatment With Avocado
CREMA VISO : Ultra Facial Cream
MASCHERA VISO PURIFICANTE: Rare Earth Deep Pore Cleansing Masque