02 Ott

Diners Club International: un tripudio di musica e profumi alla serata di apertura "Welcome Back" della kermesse Taste of Roma

Auditorium Parco della Musica – evento del 19 settembre 2019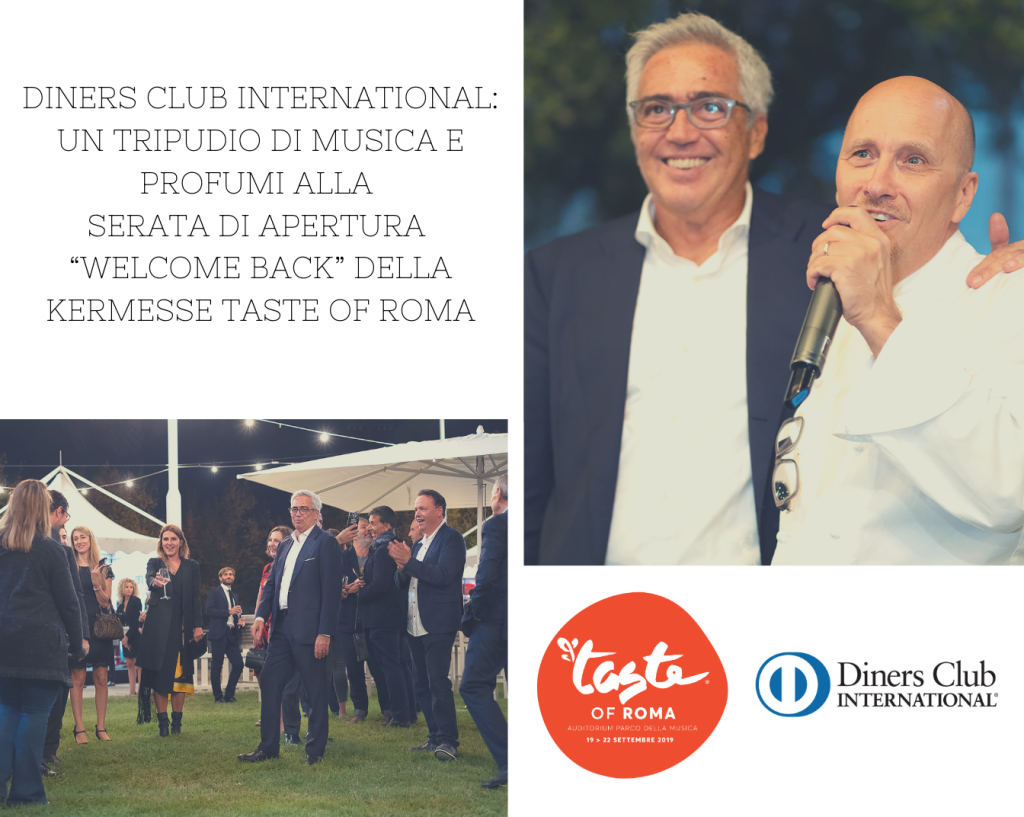 L'Opening Night del Taste of Roma del 19 settembre 2019 ha visto protagonista Diners Club International, main sponsor della manifestazione per il secondo anno consecutivo, che ha dato il benvenuto a tutti gli amanti del "fine dining" con una serata speciale "Welcome back" all'insegna della convivialità e dell'allegria.
Molte le personalità di spicco presenti per l'occasione all'interno della Vip Lounge by Diners Club International che hanno avuto la possibilità di degustare in anteprima le proposte create dallo chef di fama internazionale Heinz Beck, dallo chef stellato Ciro Scamardella e dal giovane chef Daniele Lippi.
La serata inaugurale "Welcome Back", organizzata da Diners Club International, è stata un tripudio di musica e profumi, tra piatti gourmet e vini pregiati. Sheryl Yasger – Vice President di Diners Club International e Giglio Del Borgo – CEO di Diners Club Italia, hanno più volte sottolineato il concetto di Club come Casa, intesa come ambiente accogliente e ospitale a cui sentire di appartenere (o belong, per citate il claim di Diners Club), attraverso il concetto "fine dining" che è parte del DNA del Brand.
Con la propria partecipazione al Festival, per il secondo anno consecutivo, Diners Club celebra la continuità e l'attenzione verso l'alta cucina e strizza l'occhio al futuro con importanti iniziative nel mondo del food.
Durante tutti e 4 i giorni della manifestazione, l'elegante Vip Lounge by Diners Club International ha accolto i propri Soci con coccole speciali a loro riservate grazie a un pacchetto creato ad hoc per i titolari di Carta: dal fast track, all'open bar, al servizio concierge.
Per ulteriori informazioni:
Digital PR a cura di Blu Wom Milano
www.bluwom-milano.com
p.fabretti@bluwom-milano.com